The function of gaskets is to interpose a semi-plastic material between the flange facings, the material which, through deformation under load seals the minute surface irregularities to prevent leakage of the fluid. Gaskets can be generally divided into three main categories as follows:
Non-metallic Gaskets
Semi-metallic Gaskets
Metallic Gaskets
Non-Metallic Gaskets
Usually composite sheet materials are used with flat face flanges and low pressure class applications. Non-metallic gaskets are manufactured non-asbestos material or Compressed Asbestos Fibre (CAF). Non-asbestos types include arimid fibre, glass fibre, elastomer, Teflon (PTFE) and flexible graphite. PTFE or RPTFE are used in high corrosive applications.
Full face gasket types are suitable for use with flat-face (FF) flanges and flat-ring gasket types are suitable for use with raised face (RF) flanges.
NBR : Nitrile Rubber
This is used as binder for flat gaskets for general services like Cooling Water, Fire Water, Raw Water, Tempered Water, Plant Air, Nitrogen, Pumped oily Water, Sanitary Waste Water.
This synthetic rubber is unusual in being generally resistant to oil, fuel, and other chemicals (the more nitrile within the polymer, the higher the resistance to oils but the lower the flexibility of the material).
It is used in the automotive and aeronautical industry to make fuel and oil handling hoses, seals, and grommets, since ordinary rubbers cannot be used. It is used in the nuclear industry to make protective gloves. NBR's ability to withstand a range of temperatures from −40 to 108 °C (−40 to 226 °F) makes it an ideal material for aeronautical applications. Nitrile butadiene is also used to create moulded goods, footwear, adhesives, sealants, sponges, expanded foams, and floor mats.
Flat Gaskets
 Applications : Gaskets for Cooling Water, Fire Water, Raw Water, Tempered Water, Plant Air, Nitrogen, Pumped oily Water, Sanitary Waste Water
Type : Non metallic flat gasket
Filler Material : Glass Fibre
Binding Material : NBR
Thickness : 2 MM
Rating : 150
Face Type : Between flanges raised face.
Dim. Std. : B16.21
Flange Std : B16.5 and B16.47B
Temperature Range : -40 deg C to 108 Deg. C
Semi-Metallic Gaskets
Semi-metallic gaskets are composites of metal and non-metallic materials. The metal is intended to offer strength and resiliency while the non-metallic portion of a gasket provides conformability and sealability Commonly used semi-metallic are spiral wound, metal jacketed, Cam profile and a variety of metal-reinforced graphite gaskets.
Semi metallic gaskets are designed for the widest range of operating conditions of temperature and pressure. Semi-metallic are used on raised face, male-and female and tongue-and –groove flanges.
Spiral wound gaskets are used for high temperature and high-pressure applications. The main parts of spiral wound gasket are metallic windings and filler material. The criteria for material selection of windings are: corrosive nature, fluid concentration, operating temperature and material cost. Commonly used material for winding are Stainless steel 304, 316 and 321.Alternate winding materials also can be used depending upon the services. General filler material used are Asbestos and graphite. Graphite filler are recommended for very high temperature application.
For proper positioning, spiral wound gaskets are provided with outer centering ring made up of Carbon Steel. In Vacuum service application they are provided with inner ring. The material of the ring should be compatible with the process fluid.
Spiral wound gasket is recommended with flange face finish of 63-250 AARH.
Applications : High Temperature, Corrosive, Flammable Fluids, Hydrogen etc. Gasket

Type : Spiral Wound
Dim Std : B16.20
Flange Std : B16.5 and B16.47
Rating : 150#, 300#, 600#, 900#
Filler Material : Graphite
Spiral Winding Material : 316
Centering Ring : CS : Optional based on service
Inner Ring : 304, 316

Spiral wound gasket is formed of V-shaped Metallic strip and soft non-metallic filler.
Support rings, inside and Outside the spiral, improve the gasket's handing, fitting and Versatility.
Depend on its excellent compression resilience, it is suitable for sealing spots where the alteration of temperature and pressure are frequent.
Gasket are made in a wide variety of sizes and shapes.
Combinations of metal strip and filler are selected to suit the specific fluid media and operating conditions.
Quick to install and remove.
Make gaskets suitable for high pipeline pressure on flat or raised flange faces.
Temperatures from cryogenic up to 1000 °C
Parts of Spiral Wound Gasket are :
Filler Material
Spiral Winding Material
Centering Ring (Outer)
Inner Ring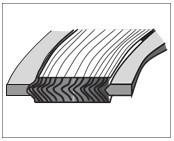 Inner Ring : Solid inner metal ring acts as a compression stopper. To prevent accumulation of solids, reduce turbulent flow of process fluids and minimize erosion, damages of gasket between flange bore and the inside diameter, the annular space is filled up by solid inner metal ring. – Suitable for male and female pipe flanges.
Centering Ring : Solid outer ring accurately locates the gasket on the flange face to give the additional radial strength to prevent the gasket blowout and acts as a compression limiter. In case of installing the outer ring, it is very easy to install the gasket to flange face because the end of outer ring will touch at bolts – Suitable for use with flat face and raised face flanges. For class 900 and above an internal ring is recommended.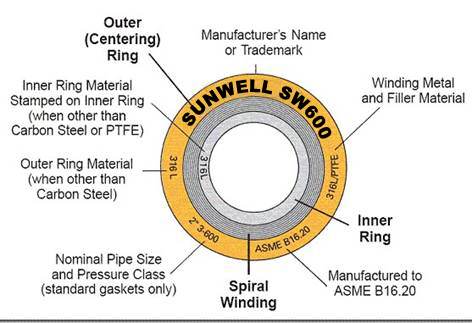 Metallic Gasket – Ring Gasket
Metallic gasket is fabricated from one or a combination of metal to the desired shape and size. Common metallic gasket is ring-joint gasket and lens rings.
It is suitable for high-pressure and temperature applications and require high bolt load to seal.
Metallic ring type joint gaskets are heavy duty, high-pressure gaskets largely used in offshore and onshore petrochemical applications.
They are precision-engineered components designed to be used in conjunction with precision-machined flanges.
All Ring Joints are manufactured according to ASME B16.20 and API 6A.
The gasket material is selected on a number of grounds primarily; chemical compatibility with the media and the hardness of the flange.
The gasket material ideally needs to be roughly 30 Brinell less than the flange material to ensure sufficient deformation of the gasket without damaging the flange facing.
Worn, pitted or corroded flange sealing surfaces can impede the sealing ability of RTJ gaskets. In such instances, a serrated octagonal RTJ gasket, covered with flexible graphite or a Maxiflex CR-RJ, can provide a temporary or emergency solution until  the flange can be repaired or replaced.
The sealing surfaces on the ring joint grooves must be smoothly finished to 63 Microinches and be free of objectionable ridges, tool or chatter marks.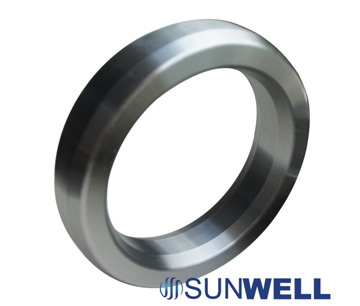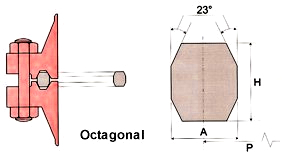 Name : Octagonal Ring Type Joint Gasket
Material : Soft Iron
Rating : 600#
Std : ASME B16.20
Flanges : B16.5
Size/Pressure Class:
½" to 24" " 150 to 2500 ASME B16.20
26" to 36" : 300 to 900 ASME B16.47 Series A
1 ½" to 20" : API 6A
Applications:
Used for high pressure applications.
Typical Properties:
High integrity seal at high pressures
The octagonal cross section has a higher sealing efficiency than the oval and would be the preferred gasket
Suitable for flat bottom groove flanges
Available in Ring numbers R11 to R105