The Oil Industry Safety Directorate (OISD) is a regulatory and technical directorate in India. It was established in 1986 by Ministry of Petroleum and Natural Gas. The OISD formulates and implements safety standards for the oil industry.
The main responsibilities OISD are:
Standardization;
Formulation of the disaster management plan;
Accident analysis;
Evaluation of safety performance.
OISD has framed rules and guidelines for safe distances to be observed for various facilities in an oil installation. All the new liquefied petroleum gas (LPG) bottling plants in India are designed based on the guidelines of OISD. Further, The LPG plants can be started only after the approval of OISD. OISD has also issued guidelines for the safe operations of petrol stations and standards related to petroleum installations.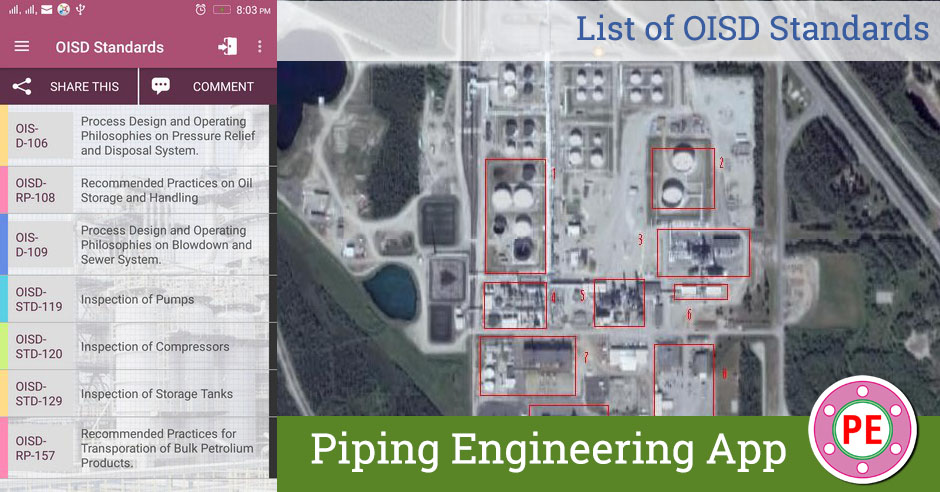 | | | |
| --- | --- | --- |
| Sr. | Number | Title |
| 1 | OISD-STD-105 | Work Permit System |
| 2 | OISD-STD-106 | Pressure Relief & Disposal System |
| 3 | OISD-RP-108 | Recommended Practices on Oil Storage and Handling |
| 4 | OISD-STD-109 | Process Design and Operating Philosophies on Blow Down & sewer system |
| 5 | OISD-RP-110 | Recommended Practices on Static Electricity |
| 6 | OISD-STD-111 | Process Design & Operating Philosophies on Fired Process Furnace |
| 7 | OISD-STD-112 | Safe Handling of Air Hydrocarbon Mixtures & Pyrophoric Substances |
| 8 | OISD-STD-113 | Classification of Area for Electrical Installations at Hydrocarbon Processing & Handling Facilities |
| 9 | OISD-STD-114 | Safe Handling of Hazardous Chemicals |
| 10 | OISD-GDN-115 | Guidelines on Fire Fighting Equipment and Appliances in Petroleum Industry |
| 11 | OISD-STD-116 | Fire Protection Facilities for Petroleum Refineries and Oil/Gas Processing Plants |
| 12 | OISD-STD-117 | Fire Protection Facilities for Petroleum Depots, Terminals, Pipeline Installations & Lube oil installations |
| 13 | OISD-STD-118 | Layouts for Oil and Gas Installations |
| 14 | OISD-STD-119 | Selection, Operation and Maintenance of Pumps |
| 15 | OISD-STD-120 | Selection, Operation and Maintenance of Compressors |
| 16 | OISD-STD-121 | Selection, Operation Inspection & Maintenance of Steam & Gas Turbines |
| 17 | OISD-RP-122 | Selection, Operation and Maintenance of Fans, Blowers, Gear Boxes, Agitators & Mixers |
| 18 | OISD-RP-123 | Selection, Operation and Maintenance of Rotary Equipment Components |
| 19 | OISD-RP-124 | Predictive Maintenance Practices |
| 20 | OISD-STD-125 | Inspection & Maintenance of Mechanical Seals |
| 21 | OISD-RP-126 | Specific practices for installations and maintenance of Rotating Equipment |
| 22 | OISD-STD-127 | Selection, Operation, Inspection & Maintenance of Diesel Engines |
| 23 | OISD-STD-128 | Inspection of Unfired Pressure Vessels |
| 24 | OISD-STD-129 | Inspection of Storage Tanks |
| 25 | OISD-STD-130 | Inspection of Piping Systems |
| 26 | OISD-STD-131 | Inspection of Boilers |
| 27 | OISD-STD-132 | Inspection of Pressure Relieving devices |
| 28 | OISD-STD-133 | Inspection of Fired Heaters |
| 29 | OISD-STD-134 | Inspection of Heat Exchangers |
| 30 | OISD-STD-135 | Inspection of Loading & Unloading hoses for Petroleum Products |
| 31 | OISD-STD-137 | Inspection of Electrical Equipment |
| 32 | OISD-STD-139 | Inspection of pipelines Offshore |
| 33 | OISD-STD-140 | Inspection of jetty pipelines |
| 34 | OISD-STD-141 | Design and Construction requirements for cross country hydrocarbon pipelines |
| 35 | OISD-STD-142 | Inspection of fire fighting equipments and systems |
| 36 | OISD-STD-144 | Liquefied Petroleum Gas (LPG) Installations |
| 37 | OISD-GDN-145 | Guidelines on Internal Safety Audits (Procedures and Checklist) |
| 38 | OISD-RP-146 | Preservation of idle electrical equipment |
| 39 | OISD-RP-147 | Inspection & safe practices during electrical installations |
| 40 | OISD-RP-148 | Inspection & safe practices during overhauling electrical equipment |
| 41 | OISD-RP-149 | Design aspects for safety in electrical systems |
| 42 | OISD-STD-150 | Design and Safety Requirements For Liquefied Petroleum Gas Mounded Storage Facility |
| 43 | OISD-STD-151 | Safety in Design, Fabrication and Fittings : Propane Tank Trucks |
| 44 | OISD-STD-152 | Safety Instrumentation for Process System in Hydrocarbon Industry |
| 45 | OISD-STD-153 | Maintenance & inspection of safety instrumentation in hydrocarbon industry |
| 46 | OISD-STD-154 | Safety aspects in Functional Training |
| 47 | OISD-STD-155 (Part I) | (Part-I Non Respiratory Equipment) |
| 48 | OISD-STD-155 (Part II) | (Part II Respiratory Equipment) |
| 49 | OISD-STD-156 | Fire Protection Facilities for Ports Handling Hydrocarbons |
| 50 | OISD-RP-157 | Recommended Practice for Transportation of Bulk Petroleum Products |
| 51 | OISD-RP-158 | Recommended Practices on Storage and Handling of Bulk Liquefied Petroleum Gas |
| 52 | OISD-STD-159 | LPG Tank Trucks - Requirements of Safety on Design/Fabrication & Fittings |
| 53 | OISD-STD-160 | Protection to fittings mounted on existing LPG tank trucks |
| 54 | OISD-GDN-161 | LPG Tank Truck Incidents : Rescue & Relief Operations |
| 55 | OISD-STD-162 | Safety in installation and maintenance of LPG Cylinders Manifold |
| 56 | OISD-STD-163 | Process Control Room Safety |
| 57 | OISD-STD-164 | Fire Proofing of Steel Supporting Structures in Oil & Gas Industry |
| 58 | OISD-GDN-165 | Guidelines for Rescue & Relief Operations for POL Tank Truck Accident |
| 59 | OISD-GDN-166 | Guidelines for Occupational Health Monitoring in Oil and Gas Industry |
| 60 | OISD-RP-167 | POL Tank lorry Design & Safety |
| 61 | OISD-GDN-168 | Emergency Preparedness Plan for Marketing Locations of Oil Industry |
| 62 | OISD-GDN-169 | OISD Guidelines on Small LPG Bottling Plants (Design and Fire Protection facilities) |
| 63 | OISD-STD-170 | Inspection, Maintenance, Repairs & Rehabilitation of Foundations & Structures |
| 64 | OISD-STD-171 | Preservation of Idle Static & Rotary Mechanical Equipment |
| 65 | OISD-STD-173 | Fire Prevention and Protection System for Electrical Installations |
| 66 | OISD-RP-174 | Well Control |
| 67 | OISD-STD-175 | Cementing Operations |
| 68 | OISD-STD-176 | Safety Health & Environment Training For Exploration & Production (Upstream) Personnel |
| 69 | OISD-STD-177 | Inspection & Maintenance of Thermal Insulation |
| 70 | OISD-GDN-178 | Guidelines on Management Of Change |
| 71 | OISD-STD-179 | Safety Requirements On Compression, Storage, Handling & Refueling Of Natural Gas (CNG) For Use In Automotive Sector. |
| 72 | OISD-GDN-180 | Lightning Protection |
| 73 | OISD-STD-181 | Geophysical Operations |
| 74 | OISD-GDN-182 | Safe Practices for Workover and Well Stimulation Operations |
| 75 | OISD-STD-183 | Standard on Logging Operations |
| 76 | OISD-STD-184 | Standard on Replacement of Personal Protective Equipment & Life Saving Appliances |
| 77 | OISD-STD-185 | Wire Line Operations |
| 78 | OISD-GDN-186 | Simultaneous Operations in E&P Industry |
| 79 | OISD-STD-187 | Care And Use Of Wire Rope |
| 80 | OISD-STD-188 | Corrosion Monitoring Of Offshore & Onshore Pipelines |
| 81 | OISD-STD-189 | Standard On Fire Fighting Equipment For Drilling Rigs, Work Over Rigs And Production Installations |
| 82 | OISD-STD-190 | Derrick Floor Operations (Onshore Drilling / Workover Rigs) |
| 83 | OISD-STD-191 | Oil Field Explosive Safety |
| 84 | OISD-GDN-192 | Safety Practices during Construction |
| 85 | OISD-GDN-193 | Guidelines for Gas Lift Operations & Maintenance |
| 86 | OISD-STD-194 | Standard for Unloading, Storage And Regasification Of Liquefied Natural Gas (LNG) |
| 87 | OISD-STD-195 | Safety in Design, Operation, Inspection and Maintenance of Hydrocarbon Gas Compressor Stations and Terminals |
| 88 | OISD-GDN-196 | Guidelines for Seeking Environmental Clearance of Development Projects in Petroleum Industry |
| 89 | OISD-GDN-197 | Guidelines for Environmental Impact Assessment |
| 90 | OISD-GDN-199 | Guidelines For Conducting Environmental Audit In Upstream Petroleum Sector (Onland) |
| 91 | OISD-GDN-200 | Guidelines For Preparation Of Oil Spill Response Contingency Plan |
| 92 | OISD-RP-201 | Environment Management in E&P Sector |
| 93 | OISD-GDN-202 | Inspection of Drilling and Workover Rig Mast / Sub-Structure |
| 94 | OISD-GDN-203 | Operation, Maintenance & Inspection Of Hoisting Equipment |
| 95 | OISD-GDN-204 | Medical Requirements, Emergency Evacuation And Facilities (for Upstream) |
| 96 | OISD-RP-205 | Crane Operation, Maintenance & Testing (for Upstream) |
| 97 | OISD-GDN-206 | Guidelines on Safety Management System in Petroleum Industry |
| 98 | OISD-GDN-207 | Contractor Safety |
| 99 | OISD-STD-210 | Storage, Handling and Refueling of LPG for automotive use |
| 100 | OISD-GDN-211 | Safety in Petroleum Laboratories |
| 101 | OISD-GDN-212 | Guidelines on Environmental Audit in Downstream Petroleum Sector |
| 102 | OISD-STD-214 | Cross Country LPG Pipelines |
| 103 | OISD-STD-216 | Electrical Safety in Onshore Drilling & Workover Rigs |
| 104 | OISD-GDN-218 | Guidelines For Safe Rig- Up & Rig- Down Of Drilling And Work-Over Rigs |
| 105 | OISD-GDN-219 | Guidelines on Field Inspection, Handling & Testing of Casing Pipe & Tubing |
| 106 | OISD-GDN-224 | Monitoring & Control of Volatile Organic Compounds Emission |
| 107 | OISD-STD-225 | Storage, Handling & Dispensing at Petroleum Retail Outlets |
| 108 | OISD-STD-226 | Natural Gas Transmission Pipelines and City Gas Distribution Networks |
| 109 | OISD-GDN-227 | Emergency Response and Preparedness in E&P Industry |
| 110 | OISD-GDN-228 | Selection, Training & Placement of Fire Operators in Hydrocarbon & Petrochemical Industry |
| 111 | OISD-STD-230 | Unlined Underground Rock Cavern Storage for Petroleum & Liquefied Petroleum Gas |
| 112 | OISD-STD-231 | Sucker Rod Pumping Units |
| 113 | OISD-GDN-232 | Identification of hazards and control measures in E&P industry |
| 114 | OISD-GDN-233 | Guidelines on inspection of Nonpiggable pipelines. |
| 115 | OISD-STD-244 | Storage and handling of Petroleum Products at depots and terminals including standalone crude oil storage facilities |
| 116 | OISD-STD-237 | Layout, Design consideration, Safety, Operation and Maintenance of Lube/ Grease manufacturing and filling plants |
| 117 | OISD-STD-234 | Electrical Safety in Onshore Production Installations in E&P Sector |
| 118 | OISD-STD-235 | Storage, Handling, Refuelling and Fire fighting at aviation fuelling stations |
| 119 | OISD-STD-236 | Design, Layout, Operation & Maintenance of Refrigerated LPG Storage |
| 120 | OISD-RP-238 | WELL INTEGRITY |
| 121 | OISD-GDN-239 | Guidelines On Annular Casing Pressure Management For Onshore Wells |