Butterfly valve consists of a circular disc in fluid path which swings 90 degrees or less to control the flow. They are made in three types, Concentric, Double offset and Triple offset.
Resilient Seated Concentric Butterfly Valve
This is the most common type of butterfly valve. It consists of a disc which is concentric with valve stem. Stem passes exactly through centre of the disc and valve. It uses a rubber seat and sealing performance is dependent on resiliency of this rubber seat. Because of rubber seat, they have pressure and temperature limitation of  200 PSI and 300 Deg.F. Rubber seat must be replaced after few years due to wear and tear. Wide variety of materials are used in their construction.
Single Offset Butterfly Valve
In this type of butterfly valve, valve stem is offset with disc along flow line.
Double Offset High Performance Butterfly Valve
In this type of butterfly valve, stem is off-center to disc both laterally and longitudinally. This results in less force required to seal the valve and less pressure on seat material. It also reduces wear and tear of the seat. Materials other than rubber can be used for seating surface which makes them suitable for higher temperature and pressure ratings of 700 psi and 1200 deg. F.
Triple Offset Butterfly Valve
This types of butterfly valve incorporates not only offset feature of double offset high performance butterfly valve but also metal seats which have inclined surface along the pipe direction. There is no friction between disc and seat when valve closes. Disc exerts compressive force on the seat. Bi-directional tight shut-off is achieved in this type of valve.
These valves are used in oil and gas, LNG/NPG terminal and tanks, chemical factories, and shipbuilding. They are also used for dirty/heavy oil to prevent extrusion.
These valves can operate at pressures upto 1400psi, allowing them to replace globe, gate, or ball valves in certain high-pressure applications.
Advantages of Butterfly Valves
Rotary Stem Movement of 90 degress or less.
They are very compact.
There is no pocketing of fluid. Hence used for hygienic services.
They are available in all pipe sizes.
Chemical Resistant and Hygienic Models are available.
Disadvantages
Due to resilient plastic seat, they have a temperature limitation, but tight closure at high temperatures is possible using a metal ring seal around the disc.
Slip-on and screwed flanges do not form a proper seal with some wafer forms of the valve, in which the resilient seat is extended to serve also as line gaskets.
Applications
Butterfly Valves  are used for gases, liquids, slurries, powders and vacuum.
Sample Piping Material Specification
Element : Butterfly Valve Concentric Wafer Type (CW), High Performance Wafer Type (HPW)
Body Material : ASTM A395 for Ambient Temp, ASTM A216 Gr. WCB for High Temp.
Class : #350
Ends : between Flat Face Flanges
Dim Standard :API 609
Operator : Lever : 2" to 6"
Lever : Gear operator : 8" and above
Trim : Disc : AL/BR for CW Type for Ambient Temp, CS for HPW type,  316 for CW High Temp
TRIM : Shaft : 316 for CW Type, CS for HPW type
TRIM : Seats : NBR for CW Type, CS for HPW Type for Ambient Temp, CS for High Performance Wafer Type, 316 for High Temperature Valve
Data Sheet : As per commodity code
Photos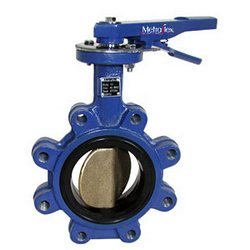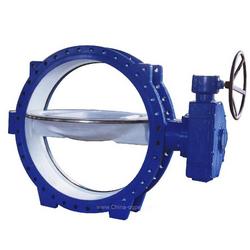 Youtube Videos
 Butterfly Valve
Butterfly Valve
Butterfly Valve
Butterfly Valve