Check Valves are used to stop reversal of a flow in a piping system, e.g. in discharge of all centrifugal pumps. There are many types of check valves and their selection is based on types of fluids, piping configuration and process parameters.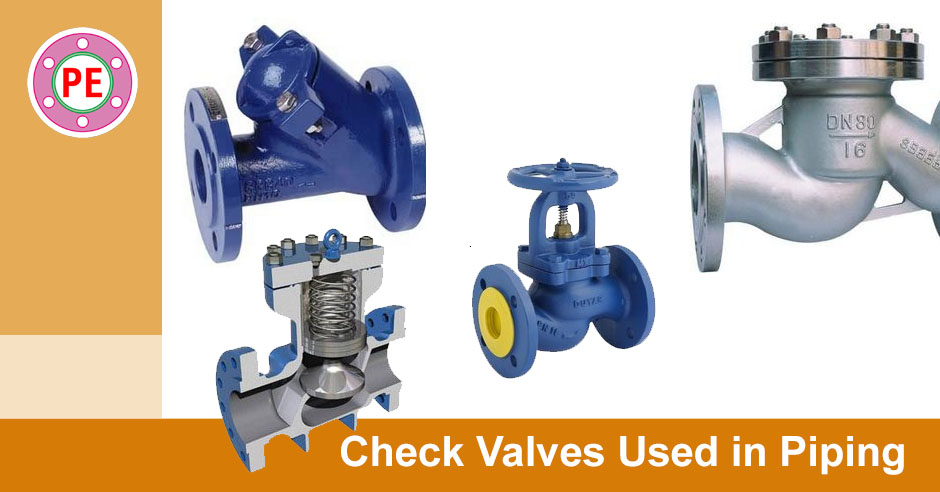 Index
Swing Check Valve
Lift Check Valve
Ball Check Valve
Piston Check Valve
Stop Check Valve
Tilting Disc Check Valve
Wafer Check Valve
Typical Piping Material Specification
Swing check valve consists of a circular disc which swings on a hinge pin.  This …Read More..
Ball Check Valve
Ball check valve consists of a ball that seats by gravity and/or back pressure , and is free to rotate.  Due to free roation of ball, wear gets distributed and contacting surfaces remain clean.
Ball check valve is suitable for most services like gases, vapors and liquids including those forming gummy deposits.
Photos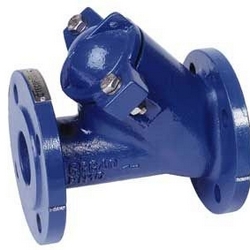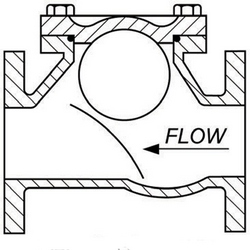 Lift Check Valve
Lift check valve resembles the piston-check valve. It has a guided disc but without a dashpot feature. Spring loaded lift check valves operate at any orientation, but unsprung valves have to be arranged so that the disc will close by gravity. Composition-disc valves are available for gritty liquids These valves are mostly small bore valves.
Photos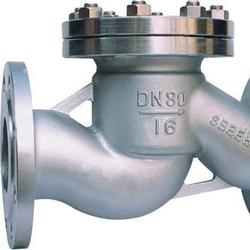 Piston Check Valve
These valves are much less subject to pounding with pulsating flow due to the intergral dash-pot. This makes them suitable for applications where frequent change of direction of flow occurs
There are two types of these valves. Spring loaded and unsprung. Spring loaded piston check valves can operate at any orientation while unsprung valves have to be oriented for gravity closure. These valves are not suitable for gritty liquids.
Photos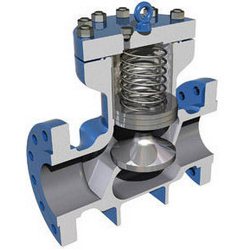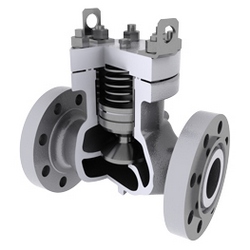 Stop Check Valve
Stop check valve can be optionally kept closed either by manual means or automatic means.
Main use of stop check valve is in steam generation by multiple boilers, where valve is inserted between each boiler and the main steam header.
Photos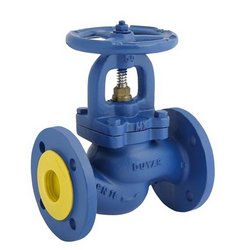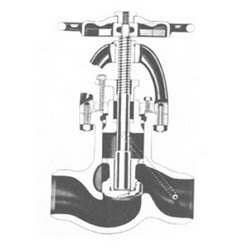 Tilting Disc Check Valve
Tilting disc check valve closes rapidly with better closure and less slamming. This makes them suitable for applications where frequent flow reversal occurs.
They have higher pressure drop with large flow velocities and lower-pressure drop with small flow velocities than a comparable swing-check valve. They can be installed vertically with flow upward, or horizontally. Disc movement can be controlled by an integral dashpot or snubber.
Photos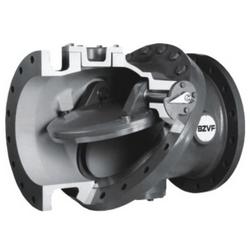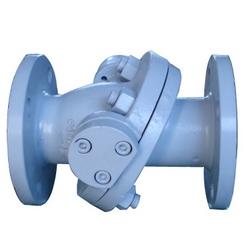 Wafer Check Valve
Wafer check valve effects closure by two semicircular doors both hinged to a central post in a ring shaped body which is installed between flanges. Frequently used for non-fouling liquids, as it is compact and of relatively low cost. A single disc type is also available.
Photos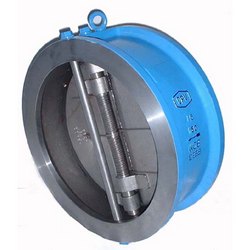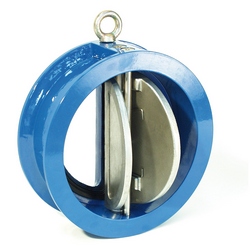 Typical Piping Material Specification
Size Range : Small bore and big Bore
Type : Lift check valve for small bore.
Y pattern stop check valve for small bore
Swing check, Tilting Disc Check valve for big bore.
Flanged Stop check valve for big bore
Ends : Socket Welding for small bore. Flanged, for large bore
Pattern : Long pattern for flanged big bore.
Body Material : A105 forged CS small bore, A182 Gr. F304L SS Small Bore Forged, A216 Gr. WCB : Cast CS Big Bore Flanged, A351 Gr. CF3 : Cast 304L Valves
Flanged End Face : Raised Face
Flanged End Rating : 150#, 300# etc. as per spec
SW End Rating : 800#
Dim Std : SW small bore : Manufacturers standard
Flanged big bore : ASME B16.10.
Operator : None, Inclined Handwheel for Y pattern stop check valve SW small bore, Normal handwheel for stop check valve flanged, SW big bore.
Trim : 5 for CS Valves. 10 for SS valves etc.
Datasheet : As per commodity code.