Gate valve has a flat disc called gate that travels perpendicular to the flow stream. They are operated by manual hand wheel for small sizes, gear operated hand wheels for larger sizes.
Advantages
Diameter through the valve is same as the diameter of the pipe. When gate is fully open, it gets completely out of flow stream, hence there is minimum pressure drop in this type of valve.
Disadvantages
Gate valve that is partially open behaves more or less as fully open. There is no flow control.
Gate and seats of the gate valve get eroded if it is kept partially open, Once eroded, positive seal never achieved again.
When it is partially open, pressure drop is very high.
Applications
 Used only for on/off purpose. Never for flow control.
They are used both for liquids as well as gases.
Also used for making hot taps, for general of/off service.
They are useful for handling slurries as gate is completely out of slurry path when completely open and slices through the slurry to stop the flow.
Also used for viscous liquid service.
Not good for applications where cleanliness and sanitary conditions are necessary.
Gate Valve Wedge Types
Solid Wedge

A Disc in the shape of a wedge seats against two inclined seats.  Solid wedges are most often used and excel in high flow or turbulent applications like steam service, since the solid design minimizes vibration and chatter. In addition to on/off service, these valves can be used for regulation, usually in sizes 6-inch and larger, but will chatter unless disc is fully guided throughout travel. Suitable for most fluids including steam, water, oil, air and gas.
Flexbile Wedge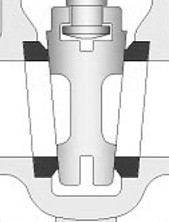 Split wedge discs are more flexible and may be used where pipeline strains may distort the valve seats. They were designed to overcome sticking on cooling in high-temperature service and to operating torque. This seat is like two wheels set on a very short axle. Stress analysis is required to know pipeline stresses and improper installation can increase operating stresses.
Double Disc Parallel Seat

In this type of a gate valve, there are two parallel seats against which  a double disc is forced, b y a 'spreader'. They are used for liquids and gases at normal temperatures.  As normal gate valves, they are unsuitable for regulation. To prevent jamming, they should be installed vertical with hand wheel up. Due to spreader spring, a tight seal is achieved between the disc and seat. In some models fluid pressure is used to force the disc against the seat.
Double Disc (Split Wedge) Wedge
In this type of gate valve, discs wedge against inclined seats without use of spreader. They are smaller valves mainly used for steam service. This type of construction allows the discs to rotate, thus distributing wear.
Single Disc Parallel Seat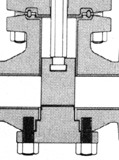 This valve provides closure with flow in either direction. There are less stresses on stem and bonnet than wedge gate valves. They are mainly used for liquid hydrocarbons and gases.
 Plug Gate Valve

This type of gate valve has a round tapered disc which moves up and down. It is suitable for flow control as well as on/off purpose. They are available only in the smaller sizes.
Typical Materials of Construction
 Valve Body
Cast iron to ASTM A126 Class B, IS 210 Gr. FG200/220/250.
Cast Carbon steel to ASTM A216 Gr. WCB.
Stainless Steel to ASTM A351 Gr. CF8/8M/3/3M
ASTM A351 Gr. CN 7M
Gaskets
Compressed Asbestos fiber Flat Ring
Graphite Asbestos Flat Ring
SS 304/316/304L/316L Spiral wound with PTFE/CAF/Grafoil Filler.
Trims / Internal Working Parts
AISI 410 (SS 410 – 13% Cr. Steel)
AISI 304
AISI 316
AISI 304L
AISI 316L
Hast Alloy B/C
ASTM A351 Gr, CN 7M
With stellited Hard Face Seat and Wedge Face
Gland Packing
 Graphite (Frafoil) moulded ring.
Graphite Asbestos Rope.
Inconnel Braided Grafoil with corrosion inhibitor
Applicable Codes and Standards
 Valve Design : API 600/ API 602/ API 603/ IS780 /BS 1414 / BS 14846
Pressure Testing : API 598
Pressure Temperature Rating : API B16.34
Face to Face : ANSI B16.10
Flange Drilling : ANSI B16.5 / BS 10 Table / DIN /IS /JIS Standards
Socket Weld End : ANSI B16.25 and B16.11
Screwed End : ANSI B 1.20.1 (BSP/NPT)
Sample Piping Material Specification
Element : Gate Valve
Small Bore Valve Ends : Socket Weld ends or Flanged ends as per spec.
Big bore valve Ends : Flanged ends, Raised face or other as per spec.
Pattern : Long pattern or short pattern as per project philosophy.
Bore : Reduced bore or full bore
Small Bore Forged Body : ASTM A105 for CS, ASTM A182 Gr. F304L for SS with NACE, HIC if required.
Big Bore Cast Body : ASTM A216 Gr. WCB for CS, ASTM A351 Gr. CF3 with NACE, HIC etc as required.
Class : 150#, 300# etc. as per spec. Class 800# for Sw
Dim Standard : ASME B16.10. Manufacturer Standard for SW Valves
Trim : No. 1,2,3,4,5 etc. as per B16.10
Operator : Handwheel upto 12". Gear operator from 14".
Photos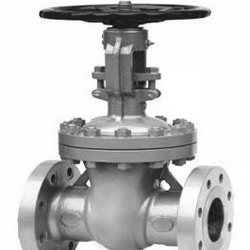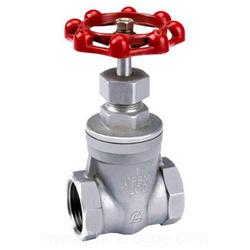 Youtube Videos
Gate Valve :
FBV Gate Valve :
Working Cutway model of Gate Valve
AVK Gate Valves