Globe valves contain a horizontal circular disc and seat ring.  They are primarily used for flow control. To avoid disc chattering against the seat in throttling position and to assist closure, manufacturers recommend flow to be from stem side to seat. Pressure of fluid help assist perfect closure when required. If there is hazard in disc getting detached from stem and closing the valve, flow should be from bottom of disc to stem side. Also in case of a composition disc, there is less wear of disc if flow is form underside of the disc to stem.
Regular Disc Globe Valve are unsuitable for Close Regulation.
Construction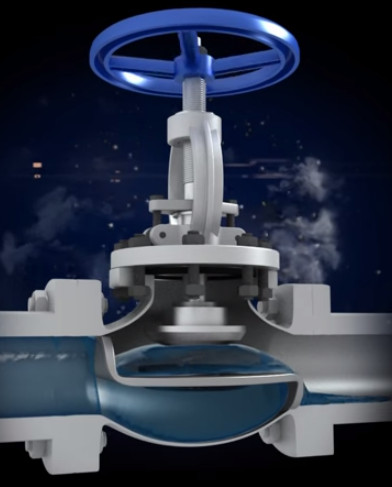 Piping Material Specification
Element : Globe Valve
Size Range : ½" to 11/2" Small Bore. 2" and Above Big Bore
Ends : Socket Welding for Small Bore. RF Flanged for Big Bore. Buttwelding as per spec.
Material of Construction : Small bore forged body : ASTM A105. For Big Bore Cast Valves : ASTM A216 Gr. WCB
Class : 800# for Socket Weld. 150#, 300# etc as per spec.
Standard : Manufacturer Standard for Small Bore SW Valves. ASME B16.10 for Big Bore Valves.
Operator : Handwheel upto 10". Gear operator 12" and above.
Trim : Trim no. 5 etc.
Datasheet : As per commodity Code.
WYE Body Globe Valve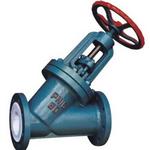 This type of valve has in line ports and stem emerging at about 45 degrees, hence the 'Y'.  It is preferred for erosive fluids due to smoother flow pattern.
Angle Globe Valve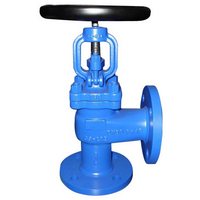 This is a globe valve with body ends at right angles saving the use of a 90-degree elbow. However, the angles of piping are often subject to higher stresses than straight runs, which must be considered with this type of valve.
Double Disc Globe Valve
They have two discs bearing on separate seats spaced apart on a single shaft. It frees the operator from stresses set up by the conveyed fluid pressing into the valve. They are primarily used on  control valves and pressure regulators for steam and other gases, as torque required is less. Should not be used for positive shutoff.
Plug Type Disc Globe Valve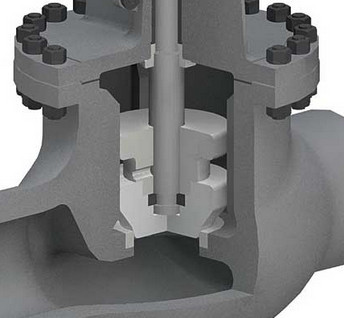 These valves are for close regulation as they are less subject to wear when used for close regulation. They are used for severe regulating service with gritty liquids, such as boiler feedwater and for blow off service.
Composition Disc Globe Valve
This type of disc is suitable for coarse regulation and tight shutoff.  This disc is replaceable like a faucet. Grit gets embeded in the soft disc preventing seat damage and ensuring good closure. These are not good for close regulation as it will rapidly damage the seat.
Youtube Videos
GM Engineers Globe Valve
Globe Valves
FBV Globe Valve