T strainers are used as permanent strainers in big bore lines 2″ and above. They can be flanged or butt welded to piping network they are installed in.
Tags : #Piping_Engineering #Piping_Fittings #Strainers #T-Strainers
Tee strainers is a custom fabricated compound strainer designed to remove foreign particles from pipeline. Tee Type Strainers are a low cost solution to large nominal bore straining requirements. They can be mounted into vertical or horizontal piping and can be configured for right-angled applications.
Tee strainers are most commonly supplied with a range of graded filtration levels (fine to coarse or vice-versa) to ensure that the system is running at the required cleanliness level when met with full load. Tee strainers feature either bolted cover or quick opening covers for application suitability.
T Strainer with differential pressure indicator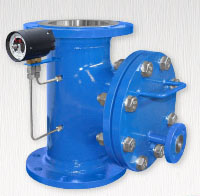 This T type strainer has drain connection on blind flange. It also has tappings on both sides of internal strainer to measure pressure differential. This pressure differential indicates amount of foreign matter trapped in the screen.
T Type Strainer Internals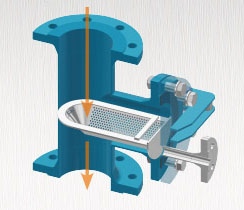 This figure shows internals of a T type strainer. Flow comes in towards concave side of strainer. Dirt is regularly blown out using drain valve. Strainer is replaced by removing blind flange.
Dimensional Standards
T strainer dimensions are manufacturer specific. Most of the times they are made using standard tee fitting. Header ends of this tee may be welded with weld neck flanges in case of flanged T strainer. Branch end is connected with weld neck flange and a blind flange. Blind flange is supplied with drain connection.
If vendor data is not available during preliminary stage of project, dimensions can be calculated using dimensions of standard tee and weld neck flanges.
Applications
Tee strainers are used where a compact accessible strainers is needed for protection of pumps, valves and similar equipment.
Materials of Construction
MOC for T-Strainer is Wrought steel butt welding material : ASTM A234 Gr. WPB for carbon steel and ASTM A403 Gr. WP304L-S for stainless steel.
Screen for all strainers are made from stainless steel 304SS, 306SS.