PVC (Poly Vinyl Chloride) is a thermoplastic type of a plastic ( Plastic which can be softened by heating).  It is sometimes known as 'Vinyl' in Europe and predominantly so in North America. In Europe, 'Vinyl' usually refers to certain specific flexible applications, such as flooring, decorative sheets and artificial leather.
Tags : Tags : #Piping_Engineering #Piping_Fittings #Plastic_Piping #Plumbing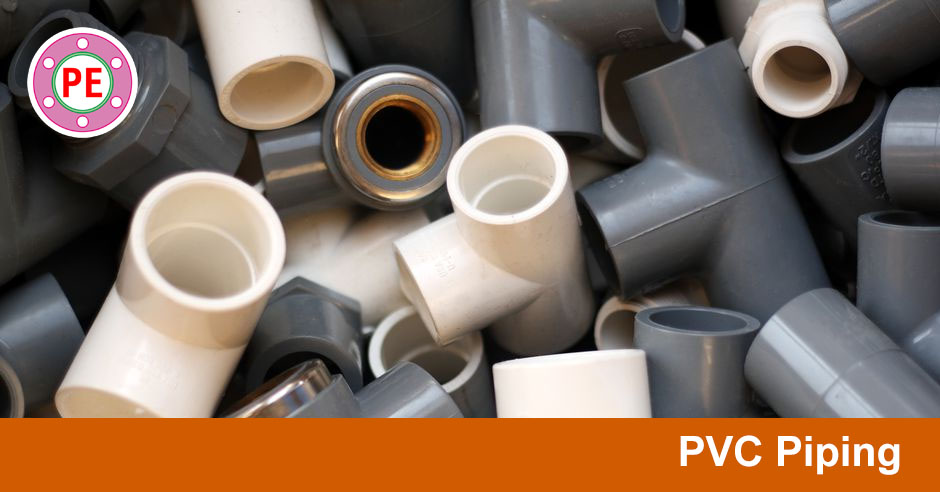 PVC is a thermoplastic made of 57% chlorine (derived from industrial grade salt) and 43% carbon (derived predominantly from oil / gas via ethylene). It is less dependent than other polymers on crude oil or natural gas, which are nonrenewable, and hence can be regarded as a natural resource saving plastic, in contrast to plastics such as PE, PP, PET and PS, which are totally dependent on oil or gas. This chlorine gives to PVC excellent fire resistance.
International Standard for PVC Piping
They are manufactured conforming to various world Standards: ISO 4422 and ISO 3633, DIN 8062, ASTM-D-2241 and ASTM-D-1785, IS 4985, IS 12231 and IS 13592.
ASTM D1785 "Standard Specification for Poly(Vinyl Chloride) (PVC) Plastic Pipe, Schedules 40, 80, and 120" is manufactured to meet the needs of a broad range of industrial, commercial and residential piping systems.
ASTM D1785 covers pipes made for water distribution and irrigation systems.
Properties of PVC Piping
PVC Piping is Non-Toxic.
PVC Piping is strong and rigid.
PVC Piping is resistant to almost all acids, corrosive liquids & gases.
PVC Piping is may be damaged by some solvents and chlorinated hydrocarbons.
Maximum usable temperature 140 deg F (60 deg C).
Usable for water, gas and drainage systems.
Not usable in hot water systems.
PVC Piping Joints
 They are available in Solvent Weld Socket Joint as well as in Rubber Ring Socket Joints.
The Selfit (Solvent Cement Joint) pipes have one end self-socketed and the other end plain, which fits snugly without the use of copiers. The strong solvent cement joint is permanent and trouble-free.
PVC Piping Size Range
20 mm to 560 mm.
PVC Piping Applications
Potable water supply Schemes,
Domestic/Industrial Plumbing,
Soil, Waste and Rain Water Drainage Systems,
Lift & Gravity Irrigation Systems,
Chemical transportation,
Agriculture Pumpset Suction and Delivery Pipes,
Rising Main & Distribution Lines.
PVC Piping Fittings
PVC Pipe
PVC pipes are either selfit i.e. joined by solvent cement or with gasketed connections.
Equal Tee
Used for branch connection of same size as main pipe in PVC piping. This is a molded PVC fitting.
Reducing Tee
Used for branch connection of size less than main pipe in PVC piping. This is a molded PVC fitting.
Elbow
Used for 90 degree direction change of PVC piping. This is a molded PVC fitting.
Coupler
This fitting is used to connect two pipe pieces in case of single piece of pipe is not sufficient for required straight length. This is a molded PVC fitting.
End Cap (Plain / Threaded)
This fitting is used to terminate a PVC pipe is case it is a dead end, or for future extension. It is a molded fitting.
Service Saddle
Service saddle is used to support PVC pipes in field.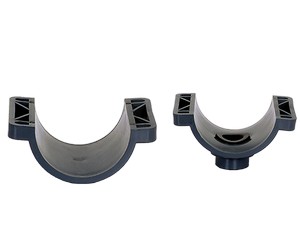 FTA ( Female Threaded Adapter)
This fitting can be used as a interface to threaded steel pipes or to connect male threaded valves of steel or plastic.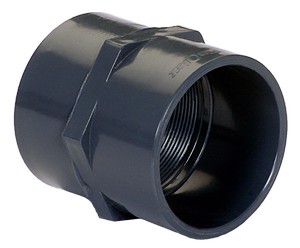 MTA (Male Threaded Adapter)
Male threaded adapter is used to connect female threaded fittings of steel or plastic.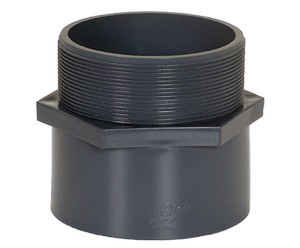 Reducer Bush
Reducer bush is used to abruptly change diameter of pipe. It causes more pressure loss than normal reducer.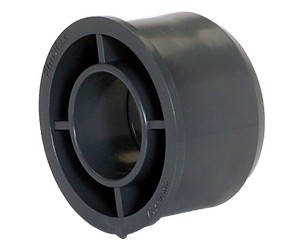 Tail Piece