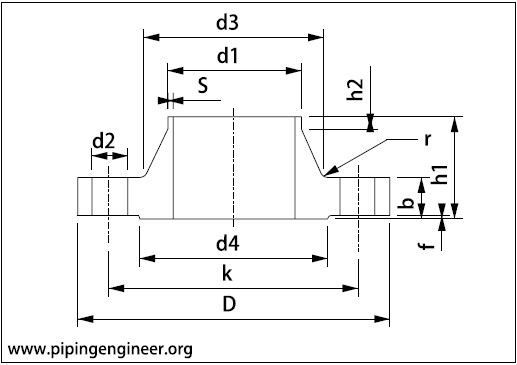 PN10 | PN16 | PN25 | PN40 | PN63 | PN100 | PN160 | PN250 | PN320 | PN400
| | | | | | | |
| --- | --- | --- | --- | --- | --- | --- |
| DN | D | k | d4 | S | d1 | d3 |
| 10 | 90 | 60 | 40 | 2.0 | 17.2 | 28 |
| 15 | 95 | 65 | 45 | 2.0 | 21.3 | 32 |
| 20 | 105 | 75 | 58 | 2.3 | 26.9 | 40 |
| 25 | 115 | 85 | 68 | 2.6 | 33.7 | 46 |
| 32 | 140 | 100 | 78 | 2.6 | 42.4 | 56 |
| 40 | 150 | 110 | 88 | 2.6 | 48.3 | 64 |
| 50 | 165 | 125 | 102 | 2.9 | 60.3 | 75 |
| 65 | 185 | 145 | 122 | 2.9 | 76.1 | 90 |
| 80 | 200 | 160 | 138 | 3.2 | 88.9 | 105 |
| 100 | 235 | 190 | 162 | 3.6 | 114.3 | 134 |
| 125 | 270 | 220 | 188 | 4.0 | 139.7 | 162 |
| 150 | 300 | 250 | 218 | 4.5 | 168.3 | 192 |
| 200 | 360 | 310 | 278 | 6.3 | 219.1 | 244 |
| 250 | 425 | 370 | 335 | 7.1 | 273.0 | 298 |
| 300 | 485 | 430 | 395 | 8.0 | 323.9 | 352 |
| DN | D | k | d4 | S | d1 | d3 |
| 350 | 555 | 490 | 450 | 8.0 | 355.6 | 398 |
| 400 | 620 | 550 | 505 | 8.8 | 406.4 | 452 |
| 450 | 670 | 600 | 555 | 8.8 | 457.0 | 500 |
| 500 | 730 | 660 | 615 | 10.0 | 508.0 | 558 |
| 600 | 845 | 770 | 720 | 11.0 | 610.0 | 660 |
| 700 | 960 | 875 | 820 | 14.2 | 711.0 | 760 |
| 800 | 1085 | 990 | 930 | 16.0 | 813.0 | 864 |
| 900 | 1185 | 1090 | 1030 | 17.5 | 914.0 | 968 |
| 1000 | 1320 | 1210 | 1140 | 20.0 | 1016.0 | 1070 |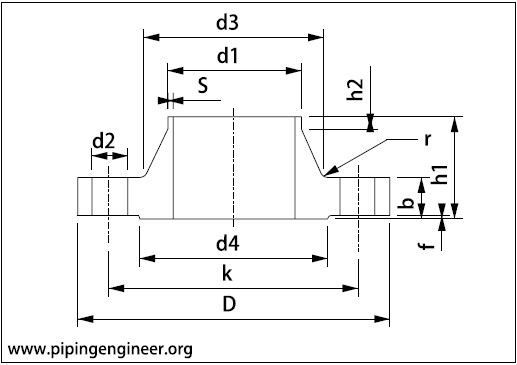 PN10 | PN16 | PN25 | PN40 | PN63 | PN100 | PN160 | PN250 | PN320 | PN400
| | | | | | | |
| --- | --- | --- | --- | --- | --- | --- |
| DN | d2 | f | b | h1 | h2 | r |
| 10 | 14 | 2 | 16 | 35 | 6 | 4 |
| 15 | 14 | 2 | 16 | 38 | 6 | 4 |
| 20 | 14 | 2 | 18 | 40 | 6 | 4 |
| 25 | 14 | 2 | 18 | 40 | 6 | 4 |
| 32 | 18 | 2 | 18 | 42 | 6 | 6 |
| 40 | 18 | 3 | 18 | 45 | 7 | 6 |
| 50 | 18 | 3 | 20 | 48 | 8 | 6 |
| 65 | 18 | 3 | 22 | 52 | 10 | 6 |
| 80 | 18 | 3 | 24 | 58 | 12 | 8 |
| 100 | 22 | 3 | 24 | 65 | 12 | 8 |
| 125 | 26 | 3 | 26 | 68 | 12 | 8 |
| 150 | 26 | 3 | 28 | 75 | 12 | 10 |
| 200 | 26 | 3 | 30 | 80 | 16 | 10 |
| 250 | 30 | 3 | 32 | 88 | 18 | 12 |
| 300 | 30 | 4 | 34 | 92 | 18 | 12 |
| DN | d2 | f | b | h1 | h2 | r |
| 350 | 33 | 4 | 38 | 100 | 20 | 12 |
| 400 | 36 | 4 | 40 | 110 | 20 | 12 |
| 450 | 36 | 4 | 46 | 110 | 20 | 12 |
| 500 | 36 | 4 | 48 | 125 | 20 | 12 |
| 600 | 39 | 5 | 48 | 125 | 20 | 12 |
| 700 | 42 | 5 | 50 | 129 | 20 | 12 |
| 800 | 48 | 5 | 53 | 138 | 22 | 12 |
| 900 | 48 | 5 | 57 | 148 | 24 | 12 |
| 1000 | 56 | 5 | 63 | 160 | 24 | 16 |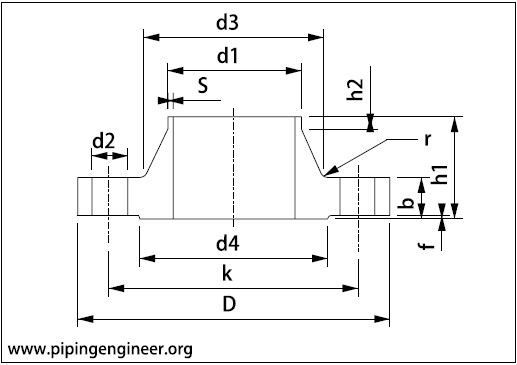 PN10 | PN16 | PN25 | PN40 | PN63 | PN100 | PN160 | PN250 | PN320 | PN400
| | | | | | |
| --- | --- | --- | --- | --- | --- |
| DN | No of Bolts | Dia. of Hex Bolts | Length of Hex Bolts | Dia. of Stud BoltsS | Length of Stud Bolts |
| 10 | 4 | M12 | 50 | 1/2" | 65 |
| 15 | 4 | M12 | 50 | 1/2" | 65 |
| 20 | 4 | M12 | 55 | 1/2" | 70 |
| 25 | 4 | M12 | 55 | 1/2" | 70 |
| 32 | 4 | M16 | 60 | 5/8" | 80 |
| 40 | 4 | M16 | 60 | 5/8" | 80 |
| 50 | 4 | M16 | 65 | 5/8" | 80 |
| 65 | 8 | M16 | 65 | 5/8" | 85 |
| 80 | 8 | M16 | 70 | 5/8" | 90 |
| 100 | 8 | M20 | 75 | 3/4" | 95 |
| 125 | 8 | M24 | 85 | 7/8" | 110 |
| 150 | 8 | M24 | 90 | 7/8" | 115 |
| 200 | 12 | M24 | 90 | 7/8" | 115 |
| 250 | 12 | M27 | 100 | 1" | 130 |
| 300 | 16 | M27 | 105 | 1" | 130 |
| DN | No of Bolts | Dia. of Hex Bolts | Length of Hex Bolts | Dia. of Stud BoltsS | Length of Stud Bolts |
| 350 | 16 | M30 | 115 | 1-1/8" | 145 |
| 400 | 16 | M33 | 120 | 1-1/4" | 160 |
| 450 | 20 | M33 | 135 | 1-1/4" | 170 |
| 500 | 20 | M33 | 140 | 1-1/4" | 175 |
| 600 | 20 | M36 | 140 | 1-3/8" | 180 |
| 700 | 24 | M39 | 150 | 1-1/2" | 195 |
| 800 | 24 | M45 | 160 | 1-3/4" | 215 |
| 900 | 28 | M45 | 170 | 1-3/4" | 220 |
| 1000 | 28 | M52 | 190 | 2" | 250 |
PN10
|
PN16
|
PN25
|
PN40
|
PN63
|
PN100
|
PN160
|
PN250
|
PN320
|
PN400
Legend
D = Outside Diameter
k = Diameter of Bolt Circle
d2 = Diameter of Bolt Holes
d4 = Diameter of Raised Face
f = Height of Raised Face
d1 = Outside Diameter of Neck
b = Flange thickness
h1 = Length of Flange
h2 = Length of right end
d3 = Neck Diameter
r = Radius of Corners
S = Wall thickness
General notes:
Dimensions are in millimeters unless otherwise indicated.
Butt-weld ends (must be specified when ordering) acc. to DIN 3239-1-R6 edge form 22 to DIN 2559 (DIN EN ISO 9692)
Extra notes:
Hex bolt lengths and diameters & lengths of Stud Bolts are calculated.
All bolt lengths calculated without washers, spring washers etc. and free threads (equals 1/3 time bolt diameter).
Gasket thickness considered 3 mm for bolt length calculations.
The dimensions of the bolts are for the type 11 weld neck flange.
Please not that other types of flanges can be have different bolt hole diameters and thicknesses, so that the bolts even can have different dimensions.
PN10 | PN16 | PN25 | PN40 | PN63 | PN100 | PN160 | PN250 | PN320 | PN400